Cosmonauts' training at the Center
Cosmonauts' training is a complex of actions directed to acquiring and maintaining special knowledge and skills which are the basis of cosmonaut proficiency and are necessary for safe execution of the space mission.
Cosmonauts' training consists of the following stages:
the first stage – basic training of cosmonaut candidates;
the second stage – advanced training of cosmonauts which means group training for a specific type of manned spacecraft or specific directions;
the third stage – increment-specific training for a particular mission aboard a manned spacecraft;
the fourth stage – in-flight training aboard a manned spacecraft.
Basic training is aimed at acquiring knowledge, skills, and qualities which are the basis of cosmonaut proficiency by cosmonaut candidates. During this training they get deep and strong knowledge in the fields of sciences which form the basis of cosmonautics (theory of a manned spacecraft flight, control systems, fundamentals of space navigation, design principles of a manned spacecraft, boosters, launching complexes, etc.), basis of a manned spacecraft and its systems as well as acquiring basic skills of these systems' control. The candidates receive knowledge in the principles of research and experiments as well as space engineering testing.
Advanced training is aimed at perfection of cosmonaut professional level, studying specific types of manned spacecrafts and acquiring operation skills as well as exercising inspection methods of cosmonaut health, preservation of health and maintenance the high performance capability. Within this course cosmonauts acquire knowledge and practical experience necessary for group training.
Increment-specific training is aimed at acquiring consistent skills in executing the mission program. Within this course cosmonauts study specific characteristics of a manned spacecraft and its operation regulations, mission plan, flight data files.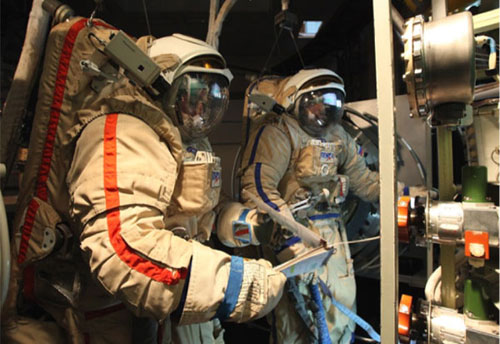 Skills of crew cooperation on executing specific parts of a mission plan, including off-nominal situations, are exercised on simulators and test stands. Cosmonauts also practice scientific experiments and investigations at this stage of training.
Cosmonaut training programs at all stages are formed on the basis of different types of training. The content and scope of these programs are determined by the goals of special crew training at this stage.
Cosmonaut training includes the following kinds of training:
technical training on systems and equipment of a manned spacecraft;
training on fulfillment of applied research, experiments, and applied kinds of activity;
a manned spacecraft crew integrated training;
EVA training;
Bio-medical training;
survival training in the extreme environment in different climate and geographical zones;
flying and special parachute training;
psychological training;
nonscience training.
Cosmonaut training
422 people from different countries received training at Yu.A. Gagarin Cosmonaut Training Center. Among those 212 people performed their spaceflights from 1961 till November, 2010.
418 cosmonauts/astronauts worked on orbit during the said period. Altogether they spent 22790 man-days on orbit, which is equivalent to more than 62 years.
Cosmonauts from 33 countries received training at Yu.A. Gagarin CTC.
¹

Country

Number

of people trained

Number of people flew aboard Russian spacecrafts

¹

Country

Number

of people trained

Number of people flew aboard Russian spacecrafts

1

Austria

2

1

18

Malaysia

2

1

2

England

2

1

19

Mongolia

2

1

3

Afghanistan

2

1

20

Poland

2

1

4

Bulgaria

3

2

21

Russia

76

40

5

Belgium

3

2

22

Romania

2

1

6

Brazil

3

1

23

Syria

2

1

7

Hungary

2

1

24

Slovakia

2

1

8

Vietnam

2

1

25

USSR

158

59

9

Germany

9

5

26

USA

141

101

10

Holland

1

-

27

Ukraine

1

1

11

India

2

1

28

France

8

1

12

Spain

1

1

29

Czechoslovakia

2

1

13

Italy

1

1

30

Sweden

1

-

14

Kazakhstan

3

1

31

Republic of South Africa

1

1

15

Canada

9

5

32

Japan

9

1

16

China

7

-

33

Republic of Korea

3

1

17

Cuba

2

1
Number of space missions and flight time
The total number of space vehicle launches with cosmonauts aboard who trained at GCTC is 127. The record number of launches was accomplished in 1980, 1997 and 2000 (6 per year) and 8 launches in 2001. Total of 224 cosmonauts and astronauts who trained at GCTC worked on orbit. Let's look at some examples:
Krikalev S.K., Malenchenko Yu.I. - performed 6 space flights;
Dzhanibekov V.À., Solovyov À.Ya., Strekalov G.M., Kaleri A.Yu., Padalka G.I., Yurchikhin F.N. - each of them performed 5 space flights;
7 cosmonauts performed 4 space flights each;
28 cosmonauts performed 3 space flights each;
40 cosmonauts performed 2 space flights each;
41 cosmonauts performed 1 space flight.
Cosmonaut Krikalev S.K. spent more than 804 days (6 space flights) on orbit. The longest flight – 438 days – was performed by cosmonaut Polyakov V.V.
TRAINED EXPEDITIONS
There were 8 space stations housing 151 expeditions worked from November, 1961 till June, 2021. The biggest amount of expeditions - 37 – worked aboard the orbital complex Mir which had stayed in orbit for 5510 days – more than 15 years. Total flight time of the Mir complex expeditions comes to 12348 man-days which makes 33.83 years.
Orbital complex

Number of expeditions

Flight time of a complex (days)

Flight time of an expedition (man-days)

primary

visiting

Salute -1

1

175

77

Salute -3À

1

213

31

Salute -4

2

768

185

Salute -5À

2

412

133

Salute -6

6

9

1703

1517

Salute -7

6

4

3215

2207

Mir

28

9

5510

12348

ISS

64

19

9545
Extra vehicular activities
158 EVAs were performed during space missions. Cosmonauts spent 1438 man-hours (60 days) in open space. Solovyov A.Ya. performed the most amount of EVAs which is 16 spacewalks lasted 3 days 7 hours 2 minutes in total, Avdeyev S.V. performed 11 spacewalks, Serebrov A.A. and Padalka G.I. performed 10 spacewalks.